ALIEN CASEBOOK
MUSING AROUND - TIES BETWEEN ALIENS AND HUMAN HISTORY >> TIES WITH THE ALIENS AND ALL ART FORMS >> PreHistoric Artifacts look like Reptoid Figurines
http://aliencases.conforums.com/index.cgi?board=art&action=display&num=1228404712

---
PreHistoric Artifacts look like Reptoid Figurines
Post by §oul†raveler on Dec 4th, 2008, 08:31am

Over the years, in the UFO forums, I have heard a great deal of talk on Reptoid type aliens, such as the Saurians, who apparently have come to earth, or live below the surface of the earth and helped seed the human population.

If you accept that viewpoint, you may find this story on Science and Archeology, where ancient artifacts from pre-historic man, dating possibly older than 20,000+ years in age. The heads of these artifacts, shaped for the most part like human beings on the rest of the body, seem to have the shape of the reptoid head.

Here is a link to the story on CNN.
http://www.cnn.com/2008/TECH/science/12/03/stoneage.art/index.html

I cannot help but think, of the old legends and myths of the Draconian race.

Then there are the pictures ranging from types of aliens and reptoid illustrations... which can be found at this link to a web site. Scroll down, on the link below, the area where it illustrates Reptoids, and look at the shape of the head and compare it to the ancient artifacts found near Moscow, Russia as reporteon the CNN story, (link shown in above 2 paragraphs)

Types of Aliens:
http://www.ufoaliens.info/pictures/aliens/aliens-pictures.html

Where did the ancient civilization get the inspiration to shape the heads of the humanoid (remainder of the body) on the prehistoric figurines that were carved out of Ivory tusks?

What do you think?

§oul†raveler

---
Re: PreHistoric Artifacts look like Reptoid Figuri
Post by alien_contactee on Dec 4th, 2008, 09:06am

on Dec 4th, 2008, 08:31am, §oul†raveler wrote:

Hey! That's just too darn coincidental. I was just thinking about you yesterday and thought I would send you an email to make sure you were okay. Hows the family? Your back okay?

I had posted this in one of my blogs so I went out and grabbed it for your post. Too appropriate.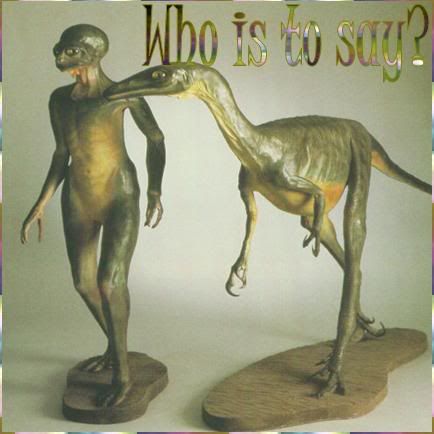 ---
Re: PreHistoric Artifacts look like Reptoid Figuri
Post by §oul†raveler on Dec 4th, 2008, 09:34am

Hi A_C

I am doing okay. Lots of things going on. Will send an email to you tomorrow explaining.

I have to leave shortly for an appointment that I have which will take most of the afternoon.

BTW, that picture you posted certainly rings some truth to the possiblities of the artifacts from prehistoric man.

Amazing how often the "truths" known in the UFO circles, come to pass at a later time in science circles, eh?

TTYL

§†
---